Tea Party Ideas from The Parlor: Church Tea Parties
Tea Party Ideas from The Parlor: Church Tea Parties
Designed by Brenda Hyde
All Rights Reserved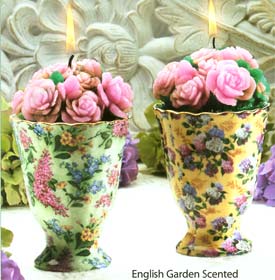 Elaine's Tea Party Ideas
If you can get hold of lace, any kind, it always makes things very feminine and puts you in another time period. Also flowers and ivy, artifical or real, make a table special for tea.
You could get some fabric pieces, flowered - different kinds if that is what you can get - to make individual napkins and even a square napkin laid out diagonally under the plates makes it seem like you're at an outdoor picnic.
I have used thank-you cards for placemarkers with figurines sitting next to them - lambs, animals (keep your eye out at 2nd hand shops for that purpose). Inside the thank-you cards you can have a special scripture for the ladies. Or even have little pieces of paper to write down things each person appreciates about the others (and keep it secret and just hand each person the papers of compliments)!
One tea party I went to, we all wore hats to pretend we were in a bygone era. Then we sat around eating cucumber sandwiches and pink heart cookies and read poetry!! It was great. (We thought the next party we'd have, we'd wear heels & hats and play croquet in the back yard. At least we'd be ariating the grass that way. Ha!)
At an English tea room in Golden Colorado, they have lamps on each table! That's different. Someone could make crumpets - to make it seem more English. I have a throw blanket with lots of fringe on it that is very lightweight that I use for a side table. You can place flowers in the napkins too as they are folded on the table. Maybe a mint hidden in each person's napkin or tea cups would be nice. Or something special with a ribbon on it sitting on each person's chair when they sit down would be special.
Once I went to a woman's activity and they had a poem word-processed out on nice paper (suitable for framing) and rolled into scroll with ribbons and bows tied around it. They were sitting in a flower vase and given to each lady as they came in.
My church's pastor is from the "south" in Louisiana. I just found out that every year they have a "Bonnet Easter" and the women wear hats on Sunday. They even come up front for everyone to see them! He said to "Please indulge a southern gentleman." I can't wait to wear one if I can imagine something to put together. ~ Elaine
Women's Ministry Tea
Our Women's Ministry has chosen to assign a table to individual women to decorate and furnish as she desires. The tables will all be different and will reflect the tastes and talents of each woman. We are sharing the food preparation also. We have had an overwhelming response to this idea both in participation and projected attendance.
I am doing 2 tables, (big response - needed more tables!) and since I am a flea market addict, I just chose items from my shelves and momentos from loved ones to do my tables. I make generous use of fabric in my center pieces (Walmart has a great selection for $1.00 yd.) and, of course, candles of all kinds. We are using real dishes, be it china, or inexpensive dishes. Some don't have complete sets and are mixing & matching. Believe it or not this is really the "in" thing now! ~Juicy
For christian womens club we had centerpieces that were roses made out of hersheys kisses, and my mother in law makes these cute little mice out of them too. you can put the mice together to make a little placecard holder. ~MaddeesMom
Ladies' High Tea
Each month the ladies group at my church sponsors a dinner. The members each have to take turns hosting a dinner. For April me and 2 of my best friends hosted a Ladies High Tea. The members were asked to wear a hat that best displayed their personalities. Ladies who were unable to wear a hat had 5 minutes to design a hat from the contents of their purse. They were also asked to bring their favorite tea pot ( you would not believe the beautiful pots and whimsical pots on display).
Ususally we set up the tables for our dinners either in a horseshoe shape or one long table. But for the tea we put several tables together to make one large table with everyone facing each other. We think this inspired conversation which is usually not as prevailent in past dinners. Each lady brought a favorite family recipe for a tea. We had meat pies, pasties, quiches, pot pies, tarts, tea cakes and sandwiches. It was a huge success and all the ladies are still talking about it.
The tea was a huge success! All are still talking about it. For our program the 3 hostesses gave motivational speeches lasting 5 minutes each that were designed to edify and motivate the beauty of womanhood. It was so successful we are planning on making teas an ongoing event at our church.
A tea is a great way to put people at ease. We usually have the tables set out in long design or in the shape of a horseshoe. But for the tea we had one big table where everyone had to face each other with a short centerpiece. It was a great way to encourage conversation, and with everyone wearing a hat there was much smiling and laughing. Try a tea. ~Lady_Tea
Tea Party Games
I'm looking for a game to play with about 70 women at our annual Tea & Treasures at my church next month. We have 8 tables of 8 women. For example, last year, each table decorated straw hats with whatever they found on their tables, or their purses. The, one lady would get up in front and model the hat. The rest of the ladies would then pick their favorite, and that table would all win a prize. ~juliebug3
You could all bring a baby/childhood photo of yourselves and match the photo to the adult at each table. Or maybe a photo of husband/patner and try to match husband to wife or perhaps .bring along a wedding photo to giggle at. Or a photo of first/favourite car you've had and match to the person. ~but-mum
How about PUT A PENNY? You have everyone bring a bag of pennies......even a dollars worth will do. You ask questions and they put or take pennies from the middle of the table as the answers indicate. For instance: If you have ever been to Florida take a penny.....
If you have ever worn white shoes after Labor day...put in two pennies...if you have ever had a cake fall..take a penny....if you met your husband on a blind date....give two pennies....etc.... The winners are those with the most pennies at each table. I suggest a box of flavored tea or a cup and saucer for prizes. The pennies by the way should all go to the missions!
Another idea would be to buy inexpensive white mugs, and permanent marker sets for each table, and have them decorate mugs and judge them. I know you can get the mugs pretty cheaply in bulk...or even at the dollar store. If they would not like to have the mugs, they could be donated to a shelter or a charity of some kind! ~Bunny
Share Tea Time Online

Visit our community forums for Tea Discussions. Feel free to read what the members are sharing or register (a simple process) to ask questions, share tips and participate in the discussions.
"We had a Ladies' Victorian Tea for our first Wesleyan Women's Meeting in October. (I attend a Wesleyan Church which is a branch off the Methodists) About 24 women came and each women brought her own tea service. Our theme was Angels and I based it on the Scripture in the Bible Psalm 91:11. Several of the ladies brought tea sandwiches. I made fruit kabobs, iced raspberry tea (which was a big hit!), candy truffles, and a vegetable tray. We had a Bible lesson on angels in our lives.
We also had a craft time where I showed the ladies how to make angels with porcelain doll heads and laces and trims. These angels were used for our Sanctuary Christmas Tree. All of the Angels were white lace with golden trims and bows. Our tree also holds elegant gold bows, clear lights and golden ball ornaments. It is really quite beautiful.. At Kmart I found a gold fiber-optic angel to go on top.
As a way of thanking each lady for coming and bringing a guest, I made Apple Cakes in a Jar and put pretty fabric over the jar lids and trimmed them with ribbon and some artificial roses I got at Wal-Mart. (These were also a big hit!) The ladies loved them. I kind of made a big deal out of our first meeting to make it memorable and it was! We have since had a couple of other meetings. Our next was is this Saturday.
We are making fruit and candy baskets for some shut ins in our church and are having a homemade cookie exchange amongst ourselves. Each women is bringing 6 dozen cookies to exchange, with a few extras to munch on while we are there. Our first women's meeting was a big success, and I am looking forward to trying some of the other great recipes I have found on this site. Thanks for all who have posted such wonderful stuff for me to try!" ~Cheryl