Using A Family Calendar
Using A Family Calendar
Designed by Tia Davis
All Rights Reserved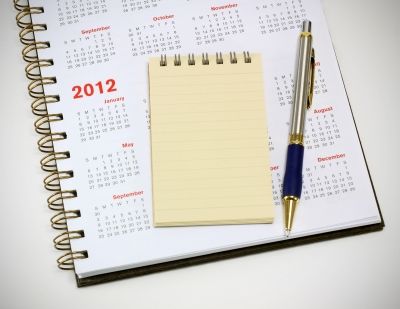 Are you one of those "born organized" folks who we all love to hate, or envy? Or, do you have to work at being and staying organized, like the rest of us? Most "BOs" (born organized people) seem to glide through life, with everything seamlessly planned and executed.
What's their secret?
It's called a calendar.
And if you are responsible for keeping track of more than just yourself, i.e. children, spouse and a few pets too, you need one. I am serious. Okay, so BOs may have other secrets too, but I guarantee one of the big bad basics they live and breathe by is their calendar. How do I know this? I was once disorganized, disheveled and essential unwound. (My husband would argue that I am now wound a little too tight, but that's another story entirely.)
At first, it was just me, all by my lonesome. And I could easily keep track of all my important dates and appointments mentally. Then I added a spouse. And he came with dates and appointments. Then we added two mini-me's and what do you know? They have their own unique set of dates and appointments, to-do lists, back to school lists and sports to keep track of. All those dates and appointments start to multiply, exponentially. And I started to unwind. I just couldn't keep track of all that stuff in my head. No, my brain wasn't malfunctioning. But it was letting me know I had to figure out a better way to remember.
A calendar saved my sanity.
Now I have a smart phone so my calendar lives in my purse and goes everywhere with me and we are besties. Back to the calendar… If you use a calendar to keep your family, or just yourself, organized I promise you will be a better you. Maybe you won't become a rocket scientist but you will become more punctual, more informed and more responsible. Welcome to being a grownup!
What kind of calendar do you need?
Honestly, it doesn't matter what kind of calendar you use. Buy one, make one, weave one. Whatever and however you procure one is up to you. Just get one. In the spirit of helping you on your quest for the perfect calendar here are a few different kinds:
*Hint: any calendar you will use every day is the perfect calendar for you!
Traditional Calendars: old school wall calendars (like my grandma still uses)
Digital Calendars: smart phone calendars, Gmail or Hotmail calendars, apps and more
Day Planners: elaborate and sometimes expensive glorified calendars with lots of colored tabs
DIY Calendars: White boards, hand drawn calendars, metal calendars with fun little magnets
*Also, if "family" means there is more than just you and Pickles the hamster, I highly recommend a wall calendar where EVERY ONE can see it. This might mean keeping a personal calendar on your smart phone and a duplicate on the wall for the family. So be it.
Once you get the perfect calendar, sit down and plot a course. Compile your list of important dates, appointments, reminders, etc and start adding them to the calendar. Some BOs use colored pens and highlighters for different types of events. Some use stickers or icons. Remember, your calendar doesn't have to be fancy; it just has to work for you and your family. Since my boys are still small, stickers and funny icons (hand drawn) work well to remind them of upcoming need-to-know appointments. And the stickers work well for my husband too. (They never outgrow stickers do they?)
Okay, you've added all your dates and huge stack of appointment cards. Toss the appointment cards, (unless you aren't even going to attempt to use your new calendar). Hang your calendar in a high traffic family zone. Mine is hung in the kitchen where everyone can see it from the snack bar and/or table. Easy-peasy. But you are not done yet. Now comes the hardest part.
Look at your calendar EVERY day!
Add to it as things come up or as papers come home from school.
Whether you are trying to "get organized" for the back to school season or as a New Year's resolution, adding and using a calendar may be one of the most challenging and rewarding things you do. Become the BO you've always dreamed of being, or at least the one I've always dreamed of.
Go now and get your calendar love on!
You may also enjoy:
Creating Cooking Calendars
Scrapbook Gifts: Calendars
DIY Wall Art: Calendars