Prepare your Outdoor Spaces for Easy Entertaining
Prepare your Outdoor Spaces for Easy Entertaining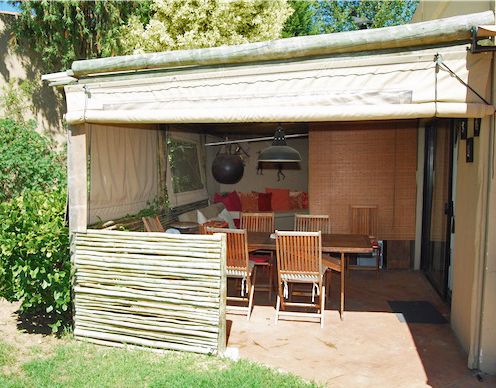 There is nothing nicer in summer than having a well-planned outdoor area that you can use for entertaining friends, cooking and eating alfresco, or simply relaxing at home with the family.
Of course if you are building a new home you can incorporate a well-designed patio in your plans that will totally meet your needs. And if you are buying a house, you can choose one that has one or more outdoor spaces you can use for entertaining.
But what do you do if you have a home and it doesn't meet your outdoor entertaining needs?
Determine How You Will Use Your Outdoor Entertaining Area
Anybody who appreciates an indoor-outdoor lifestyle will want to incorporate garden or patio areas in a way that they can maximize their usefulness. But before you start you need to consider your needs carefully.
While some sort of seating arrangement will be essential, if you are going to eat outdoors you will also want a table.
Taking this idea one step further, you might also want to build a fire pit or barbecue where you can cook, or even just make a fire to keep you warm on cooler evenings throughout the year. But there are also many portable options that you can use to instantly transform a well-planned patio into an instant "kitchen" that will be a hit with friends and family alike.
Either way, the interior of your home needs to be accessible, and you need to consider where you will store the items that you will need on an ongoing basis.
Identify What You Can Do With What You've Got
The size of your existing outdoor areas will determine, to a large extent, what you can do with each area. But if you consider the bigger picture, you will find that even the smallest space can be exploited to advantage. You might be pleasantly surprised to discover that even a full-on outdoor kitchen may be constructed alongside your house in a small area, making use of plumbing and electrical connections from the indoor kitchen.
The best outdoor spaces to claim for outdoor entertaining areas are those that have a good, solid floor of some sort underfoot, and if not a roof covering of some sort, then the potential for you to be able to construct with ease that will at least give you shade from the sun.
Many people construct patios alongside their houses, but without any real thought of how they will get the best use out of them. While a patio doesn't necessarily need to be covered or sheltered in any way, screening it will shield you from wind, and a solid roof will enable you to sit outside even on rainy days.
Seating for Your Outdoor Areas
It doesn't matter what type of entertaining you are planning; whether you're likely to be sitting and chatting, or enjoying a meal together, you will need somewhere to sit.
While there is a wide choice of seating options that are suitable for outdoor areas, the degree of protection you have from the elements – particularly rain – will have a direct bearing what you choose to buy. Good quality metal garden furniture, for instance, doesn't need to be taken indoors when it rains or snows, while cane or wooden furniture, while hardy, will deteriorate more rapidly.
Options range from sturdy furniture that can stay outdoors all year round, to lightweight garden tables and chairs that can be stored under cover when you aren't likely to want to entertain in your backyard or garden. Many versatile designs have loose cushions that can be safely stored when they aren't needed.
The other option is to build in seating, either from bricks or blocks and mortar, or using timber. On a deck, for instance, a seat could double as a storage case for the cushions that you use when entertaining.
Browse magazines, books and photographs on the Internet for ideas. Your backyard will never be the same again! Check out Hammer and Gumption for more home improvement tips.
You may also enjoy: