Pallet Furniture Is Fun
Pallet Furniture Is Fun
Designed by Tia Davis
All Rights Reserved
Notice anything unusual lately about furniture? Whether you are browsing Better Homes & Gardens or your local craft fair, undoubtedly you'll see this latest trend in repurposing or "upcycling" old or found objects.
Yes, people are actually building furniture out of old pallets! The stuff my granddad used to save for firewood is now sold as trendy "eco-friendly" furniture.
What was firewood is now fashionable!
It seems people are once again embracing the idea of "waste not, want not" that our grandparents and great-grandparents practiced, almost to a fault. (Think Great Depression and frugal living, circa 1930's-1940's.)
Reusing and repurposing food, tools and other supplies saved their bacon back in the day. Now…It's finally cool to be old fashioned! See, our little old fashioned living community had the right idea all along – but you already knew that didn't you.
I have to confess, my mother-in-law recently found a garden work bench/plant station made solely of pallets on sale for $150 at her local garden supply store. I did not encourage her to buy it, not when her son (my awesome hubby) can build her one for free. But it brings up another interesting notion – people are making a nice profit from furniture they have built from old pallets (which they probably found or salvaged for free!).
Frugality is making a come-back!
Here are a few ideas for pallet furniture.
Living/Dining Room – coffee table, end tables, sofas, benches
Kitchen – breakfast nook, kitchen table, island, butcher block
Bedroom – beds, headboards, nightstands, shelves, decorative pieces
Office – desks, shelving, storage, cabinets, chairs, craft work table
Patio – tables, patio sets, lounge chairs, garden work bench
Miscellaneous – shelves, magazine racks, TV stands, frames, art deco
So, what do you need to make a piece of pallet furniture? First, you will need an idea. We loved the idea of a garden work bench, since I didn't really have a place outside to repot plants and such. My hubby stopped by a mobile home manufacturer's plant, which happens to be on his way home from work, and retrieved 3 or 4 pallets from their dumpster pile.
Hubby made sure the pallets he took were still in fairly good shape, not too worn, with no obvious nails or staples sticking out. Hubby used a regular table saw to cut his pieces. He used his electric drill and screws he had on hand to assemble the work station. Then he did a fair bit of sanding so I don't get any slivers (a definite downside to pallet furniture if you are not careful.) It was a bit of a trial and error production, but he got it done in an afternoon so I call it a success!
Are you ready to run out and find yourself some pallets?
My husband beat you to it. He has now crafted a coffee table and a garden workbench for me out of repurposed pallets. And guess what? They are pretty fun! You, too, can be the proud owner of some piece of pallet furniture to show off with a little time and very little money. Get creative and check out the Internet for unique ways other people have already put pallets to good use. Then get busy and build yourself a pallet patio set or something equally fun and interesting!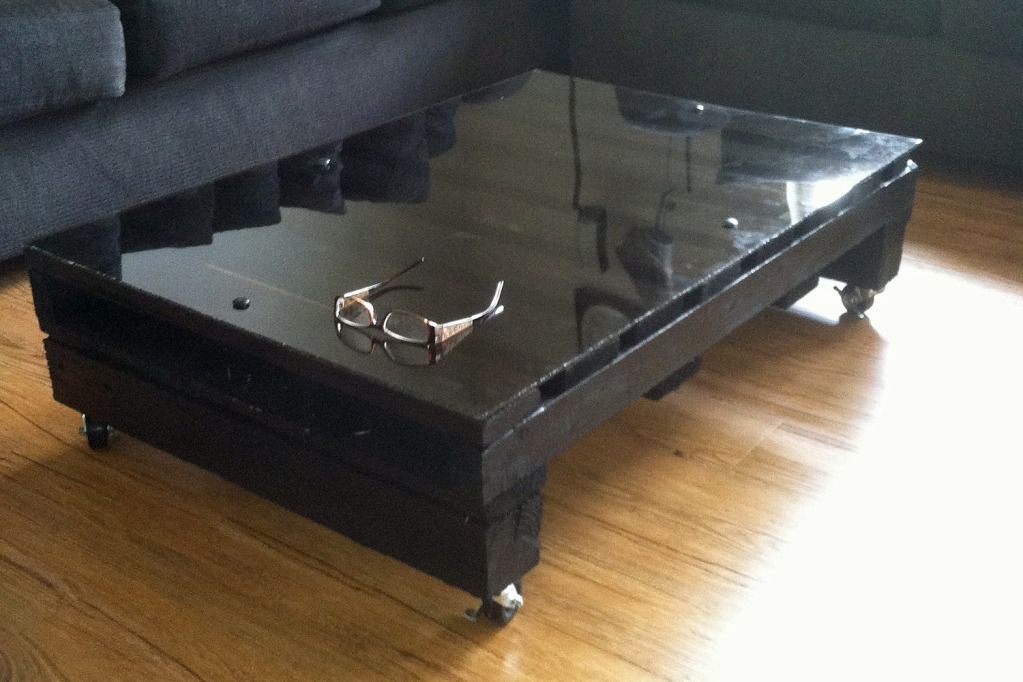 I plan to keep Hubby busy for a while with pallet furniture ideas…
If you do decide to create a piece of pallet furniture, share it with us on our Facebook page so we can all ooh and ahh along with you.
Decoist.com has a really fun page featuring pallet furniture ideas!