Painting Glass Jars
Painting Glass Jars
Designed by Tia Davis
All Rights Reserved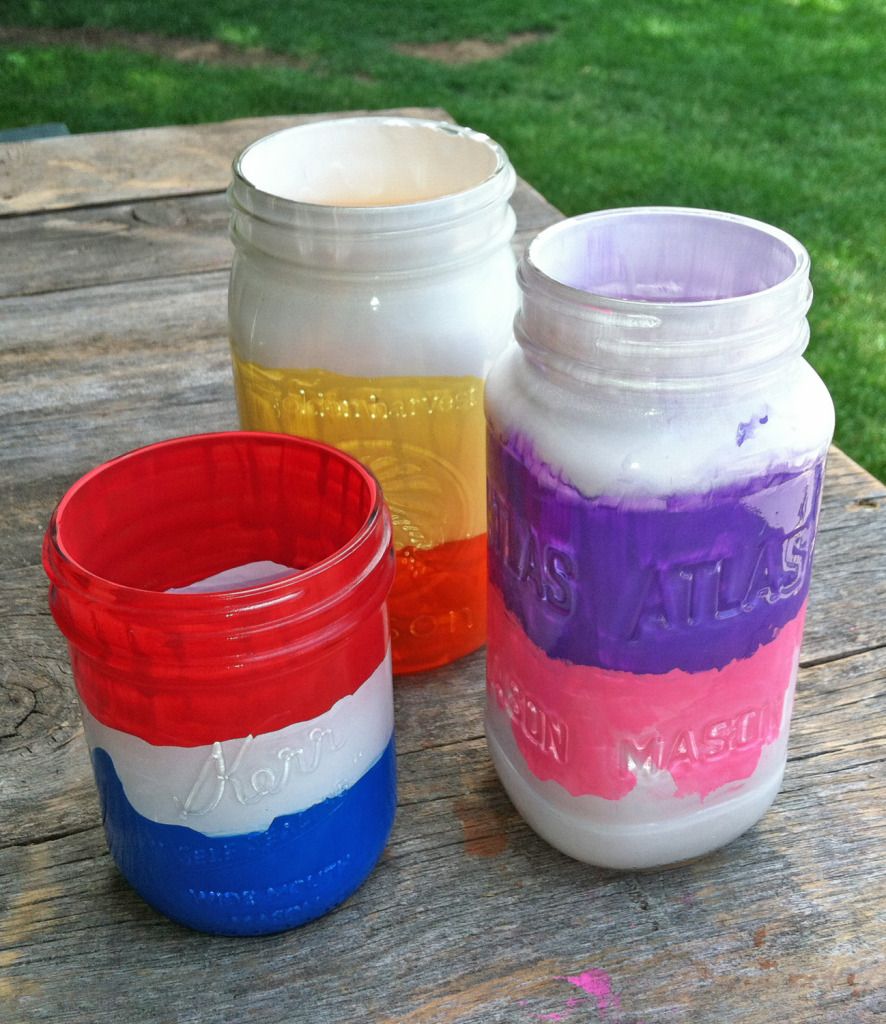 Wondering what to do with all those glass jars or vases? If you have a collection of glass jars sitting empty pining for a purpose, I have the ideal solution. Put them to good use with a little paint and your creativity.
Repurpose Your Glass Jars!

There are so many creative ways to reuse or repurpose your glass jars. Google "glass jar crafts" and you'll see what I mean. People all over the internet are using glass jars in unique and beautiful ways besides canning or preserving food.

I found tutorials and ideas for using glass jars to create: personalized drink holders, sand art, tiny terrariums, infused vodka or flavored water, spice racks, outdoor/garden lanterns, votive or candle holders, etched glass vases or pantry containers, garden décor, gift containers, candy jars, party/table decorations, chalkboard jars, craft containers and office organizers, to name a few.

I saw so many adorable painted or tinted glass jars online during my search and decided I needed a few pretty painted jars of my own to display or hold various supplies in.

Paint those jars!

I am one of those sad unlucky people who had NO glass jars just sitting around. (I do now!) So, I went around to a few thrift stores and picked up some glass jars in an assortment of sizes and shapes. Next, I gathered: my jars, acrylic paints, foam brush and paint brush. (Make sure your glass jar is clean and dry.)
First, put a generous amount of paint inside the bottom of your glass jar. (Be careful not to get any on the edges.) Either swirl the paint around the bottom of the jar and up the sides to spread your color. Or use a paint brush or foam brush to spread your paint around. With my first layer I swirled the paint around the bottom and up the sides. Let this layer dry for about 30 minutes to an hour, depending on the temperature where you are working. (I set mine outside on my garden bench to dry.)
*Tip: the wider mouth and larger jars are much easier to work with. I used wider mouth jars for my first two jars. I got a little braver with my third jar and it took more time and patience to achieve the look I wanted.

Next, using a different or variegated paint color add paint to the inside walls of your jar. I found adding the different colors and layers to be a bit more challenging than the bottom section. I carefully used a paint brush to smear the paint around to achieve my next paint layer. Let this layer dry for about 30 minutes to an hour.
*Tip: I tried turning my jars upside down to dry for different streaking affects, just for fun. It all depends on how you want your layers to look. If you don't want or need a definitive line between layers, you can eliminate the drying time between layers for a smeared or blended affected.

Then, add a final color layer or layers to your jar, depending on your color theme or purpose. Follow the previous step for applying the paint and drying time. If this is your final layer, allow the jar to dry several hours or overnight before using the jar for the new purpose. This insures your paint is completely dry and in no danger of smearing. (After all, you put all that time and work into creating it!)

Finally, display your pretty painted jar in a prominent spot to enjoy or show off! For my next jar I plan to attempt an ombre or variegated color affect. I have to pick up some more paint first. Good thing I can snag some acrylic paint at Wal-Mart for less than $2.00 each!
You should be ready to create your own painted jars now that I have walked you through it. Go forth, find and paint some jars, and get messy!
You may also enjoy: