Old Fashioned Soup Flavorings
Old Fashioned Soup Flavorings
Designed by Brenda Hyde
All Rights Reserved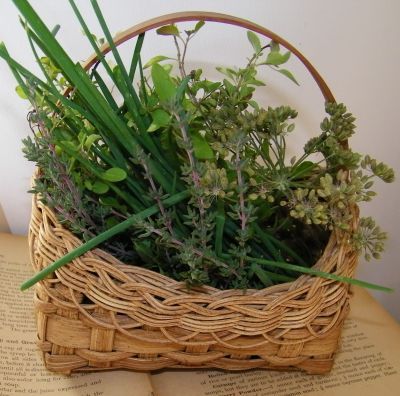 Soups combine the simplest of ingredients, giving us a nourishing, delicious family meal for any season.
The key to a good soup is the seasoning. Without herbs and spices, soups would be bland and tasteless.
I often experiment with seasonings when I have the time, but taking advice from other cooks is one way we can discover new methods to add variety to our own recipes.
I love looking for seasoning tips in old cookbooks, especially those from earlier than 1940 or so. Cooks back then didn't have the option of hopping in the car and driving up to the nearest grocery store for bottled spices, canned broth or other modern conveniences. They often used what was on hand in the cupboards or the garden. We can learn so much from older cookbooks on cooking simply and frugally.
The copy of 20th Century Cook Book (Maud C. Cooke) I have is crumbling a little more each time I open it, but keeping it on the shelf would be a shame since it has so much to share. The section on soup flavorings is amazing, as you'll find out from the following tips. Growing most of herbs mentioned is easy, but if you don't grow your own, they are readily available at larger grocery stores in the produce area.
Celery Vinegar
: Soup 1 ounce of celery seed in a pint of vinegar, bottle and put aside for favoring soups and gravies. (See the note on vinegars below.)
Bouquet of Herbs
: A spray of parsley, a sprig of thyme, 1 of savory, a sage leaf and a bay leaf tied together make what is known as a herb "bouquet". It will flavor a gallon of soup if cooked in it for an hour. When less stuff is to be flavored, less cooking of the bouquet is required. The sage can be omitted whenever desired.
Notes: Use string made for use in the kitchen, or a strip cut from cheese cloth. The herbs can also be placed in a large tea ball instead.
Herb Spirit:
Equal part of thyme, sweet marjoram, summer savory, parsley and celery seed, gathered in their prime. Fill a wide-mouthed bottle loosely with the fresh leaves, fill with good vinegar, and cork. After a few days pour off the vinegar into another bottle and cork. This will be found very convenient for flavoring soups.
Notes: Glass jars work well for herb vinegars; however, metal lids will corrode unless lined with cloth or plastic. The heavy plastic jars that peanut butter and mayonnaise come in work well for vinegars. White vinegar is inexpensive and works well with herbs.
Dried Soup Herbs
: The course stalks of celery, sprigs of parsley and other soup herbs may be put to a good use by washing, drying and powdering fine and bottling, to be used later for seasoning purposes. A small bunch of fresh parsley, or 2 tablespoons of the dried, is sufficient for 1 gallon of soup.
To have fresh parsley all winter, put a box in the kitchen window and plant the seed. It can be grown all winter, and is not only nice seasoning for soups, but is a pretty garnish for meat and fish.
Don't be afraid to experiment with herbs and spices in your cooking. They add a lovely flavor to any soup, no matter how simple.
You may also enjoy:
Homemade Cream Soups
Roasted Butternut Squash Soup
Learning to Use Herbs and Spices: Herbs and Spices for Soups