Old Fashioned Apple Recipes 2
Old Fashioned Apple Recipes 2
Designed by Brenda Hyde
All Rights Reserved
Cooking with old recipes can be challenging
. The older the recipe, the more of a challenge it tends to be. Below are recipes from various years that use apples, which are one of my favorite fruits. It's important to read the notes after each recipe before mixing the ingredients. I type out the recipes as they are printed, but clarify ingredients and directions in my notes.
Any apple variety can be used in these recipes.
I tend to use apples that are a little less crisp. We love fresh apples at our house, but often when I buy a larger amount some will start to soften slightly, and I use those for baking. The skin might get slightly chewy, but once they are peeled and cored, the apple is perfect for baking or cooking.
Apple Corn Cakes
Cooking for Company, 1968
Farm Journal Editors
1 egg, slightly beaten
2 tbsp. salad oil
1 cup buttermilk
1 cup cornmeal
1/2 tsp. baking soda
1/2 tsp. salt
1 tbsp. sugar
1 cup chopped peeled apples
Stir together the egg, salad oil and buttermilk. Sift together the cornmeal, baking soda, salt and sugar; blend in the egg mixture. Add the apples. Bake in a preheated, lightly greased griddle. Makes about 20 two inch cakes.
Notes: Use vegetable oil for this recipe, and yellow cornmeal, for the best results. Any apple will work. For this type of "pancake" I use an electric griddle sprayed with pan spray.
Steamed Apple Pudding
The Rumford Complete Cookbook, 1934
Ingredients:
3 cups flour
1 level tsp. salt
1 level tsp. Rumford Baking Powder
1 cup beef suet, free from skin
Ice-cold water
Apples
Sugar
Sift together the flour, salt and baking powder; add the finely chopped suet, and mix to a firm dough with the water; roll out thinly and use to line a well-greased bowl. Then fill with apples, pared and cored and cut into pieces, adding sugar to sweeten and a little water to make juice. Cover with more crust, tie a floured cloth over the top and steam or boil at least two and a half hours. Serve with a sweet sauce.
Notes: suet is available in the meat section of most grocery stores if you want to make this recipe as it was printed originally above. Plain vegetable shortening can be substituted but it won't quite have the same result. Don't use butter or margarine.
Steaming: The recipe above doesn't give many details on steaming, but one simple method is to cover the ceramic or glass bowl (or a mold made for this type of dessert) with foil or cheesecloth. In a pan large enough to hold the bowl, place a steam rack (an expandable vegetable steamer works well), in the bottom of the pan. Set the bowl with the pudding on the rack, fill the pan with water until it's covering the outside bottom half of the bowl. Place a lid on the pan, and bring the water to a boil. Reduce to a simmer and cook for 2 1/2 hours as instructed.
Apple Sponge
The International Cook Book, 1929
Grease an eight by ten-inch cake tin generously. Fill the bottom one inch deep with apples--sliced as for pie. Put one-half pound brown sugar over the apples. Cover apples with a batter made from:
3 eggs, well beaten
2 tbsp. water
1/2 cup sugar
Grated rind of one lemon
3/4 cup flour
1 tsp. baking powder
Bake forty minute in a moderate oven (350 degrees F.). Serve with whipped cream. Garnish with cherries.
Notes: This recipe is pretty straight forward. The sugar should be granulated white sugar, and the flour can be bleached or unbleached all purpose flour. The brown sugar will end up being a little less than 1 1/4 cups packed brown sugar, but for this it won't need to be exact like the batter ingredients. To make the batter, combine the ingredients listed and mix well. I mix the dry ingredients first, and then add the wet to it when mixing.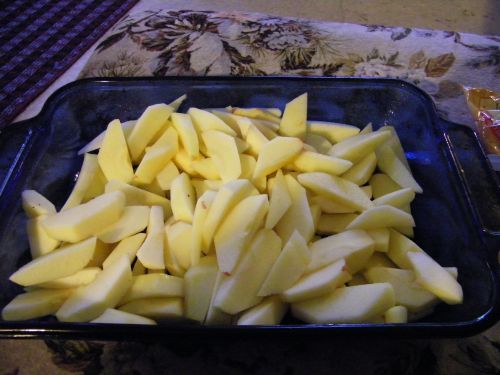 English Apple Pie
(No Pastry)
Practical Recipes for the Housewife
2 very large mellow apples
1 cup sifted flour
1/2 cup brown sugar
Butter the size of an egg
1 tsp. white sugar
1/4 tsp. nutmeg
1 tsp. lemon juice
Mix well the brown sugar, flour and butter (dry). Grease deep baking dish; put in all the apples sliced very thin, add an extra piece of butter about the size of an English walnut, sliced thin and placed over apples; sprinkle over this white sugar. Add a teaspoon water, nutmeg and lemon juice. Place on top of pie the dry mixture (sugar, butter and flour). Cover contents thoroughly. Bake in moderate oven 30 minutes. Serve hot or cold with whipped cream.
Notes: Butter the size of an egg is about 2 tablespoons. In the directions it calls for more butter, but this time the instructions want it to be the size of an English walnut. Both of these tend to be translated to 2 tablespoons in modern recipes, but to this baker they obviously aren't the same. The second amount of butter should be cold butter that is sliced thinly and placed over the apples, spaced fairly evenly. If the measurement is off a little it won't matter. This type of recipe is quite forgiving.
You may also enjoy:
Old Fashioned Apple Recipes
Apples for Breakfast or Brunch
Apple Pie Recipes for Autumn
Autumn Apple and Fruit Dip Recipes
1st Apple Image:
FreeDigitalPhotos.net
2nd Apple Image: Brenda Hyde