Labor Day Menu
Labor Day Menu
Designed by Brenda Hyde
All Rights Reserved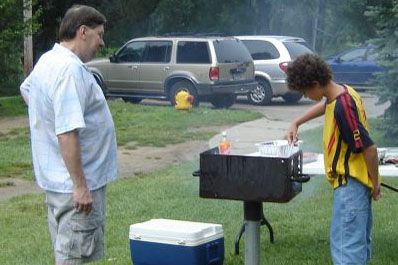 Labor Day is always thought of as the last hurrah of summer, even if we know there are plenty of hot days left before cold weather sets in. According to the U.S. Department of Labor it's "a yearly national tribute to the contributions workers have made to the strength, prosperity, and well-being of our country."
I can't think of a better way to spend Labor Day than grilling good food while hanging out with family and friends. Below is an easy menu that won't take too much of your hard earned money, or time.
The menu includes chicken and hamburgers for several reasons. Partly for variety but also because the chicken can be served as an appetizer if desired. Notice that I didn't include a dessert. This is the perfect time of year to put out a natural dessert of watermelon, cantaloupe, peaches, plums and any other fruit that is available in your area.
Grilled Chicken Wings and Legs
Ingredients:
4-6 pounds chicken wings and legs
Spicy Marinade
1 cup ranch dressings, any type
1/4 cup lemon juice
2 tbsp. oil
2-3 garlic cloves, peeled and minced
1 tsp. cayenne pepper
1 tsp. Cajun seasoning
Savory Marinade
1/2 cup Caesar dressing
2-3 cloves garlic, peeled and minced
1 tsp. ground black pepper
In separate bowls mix the dressing ingredients. Divide the wings and legs so half will be marinated in the spicy sauce, and the other half in the savory sauce. Place the chicken in a plastic container with a lid or use a large resealable plastic bag. Add the marinade to each half of the chicken and refrigerate for 2-4 hours before grilling, shaking the container a couple times during the marinating to mix it up again.
Remove the chicken from the marinade and grill for 20-30 minutes on medium heat, turning several times. This should be about 8-10 servings.
Spicy Grilled Burgers
Ingredients:
2 large eggs
2 1/2 pounds ground beef, chuck or round
4 tablespoons minced jalapeno pepper
1 tsp. seasoning salt
8 slices Colby Jack Cheese
8 hamburger buns
1 large tomato
1 sweet onion
In a large bowl, combine the ground beef, jalapeno pepper, and salt. Mix with clean hands or a large wooden spoon until everything is combined. Form into 8 patties. Slice the tomato and set aside. Slice the onion and place on a piece of foil. Drizzle with a tiny bit of oil and season with salt and pepper. Grill the burgers until no longer pink. Place the onions on the grill, at the same time as the burgers, stirring once or twice. Serve the burgers on the buns with a slice of cheese, tomato and onion.
Red Potato Salad
Ingredients:
2 pounds new red potatoes, washed
1 cup chopped red onion
1 cup chopped green pepper
2 garlic cloves, peeled and minced
1 tsp. crushed red pepper
1/2 tsp. salt
1/2 cup mustard
1 cup mayonnaise
1/2 cup red wine vinegar
2 tbsp. oil
Boil the potatoes with the skin on for 25 minutes or until tender. Drain and cool. Cut the potatoes into small chunks, placing in a large bowl. Add the green pepper, and onion. In a measuring cup or small bowl mix the garlic, red pepper, mustard, mayonnaise, vinegar and oil. Mix with a fork until combined. Add to the potato mixture, tossing lightly to mix in the dressing. Cover and refrigerate overnight.
Savory Coleslaw
Ingredients:
16 ounce bag shredded cabbage with carrots
1/2 cup radishes, diced
1/2 cup minced sweet onion
1/3 cup mayonnaise
3 tbsp. sour cream
1 tbsp. vinegar
1 tsp. Dijon mustard
1 tsp. sugar
Combine the cabbage, radishes and onion in a large bowl. In a small bowl, mix together the other ingredients until smooth. Add to the vegetable mix, tossing to coat everything. Refrigerate a few hours or overnight before serving.
You may also enjoy:
Easy Dinner For A Busy Family
Easy Weekday Casseroles
Homemade Ice Cream Toppings