Install Your Own Flooring
Install Your Own Flooring
Designed by Tia Davis
All Rights Reserved
(Replacing Old Carpet with Allure Flooring)
Yep! You guessed it. My husband and I have lost our marbles. We have entered the DIY zone, which is similar to the Twilight Zone in that you can get lost very easily, but different in that it usually requires heavy lifting and paint. We couldn't start with something small like refinishing an end table together or crocheting a rag rug for the porch. Nope, we had to launch ourselves at warp speed into the realm of Do-it-yourself land and pray we landed somewhere soft and forgiving.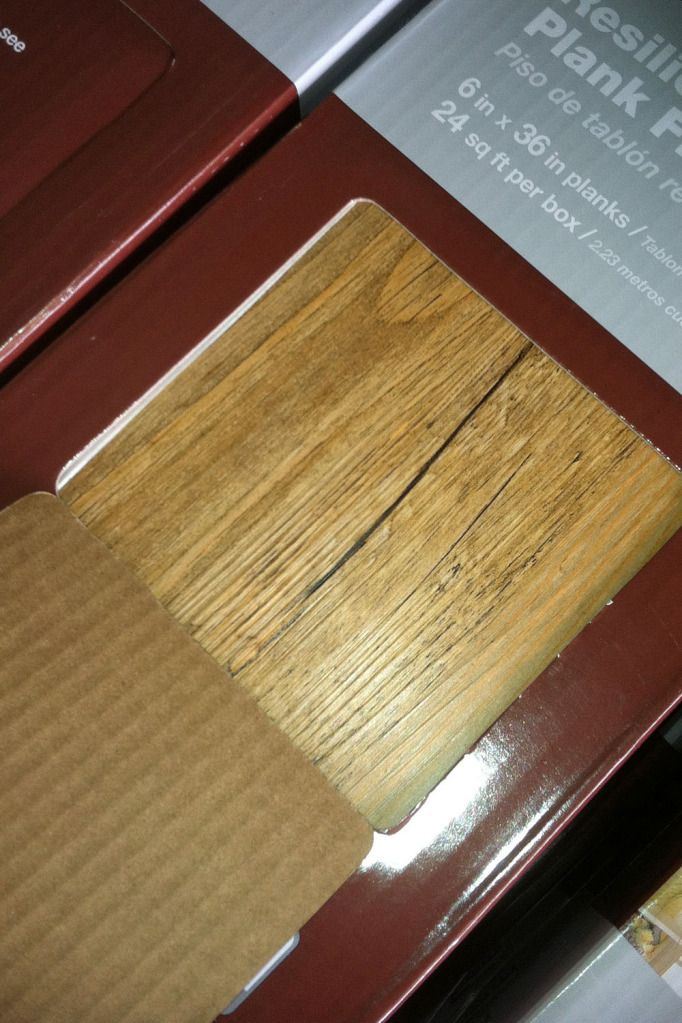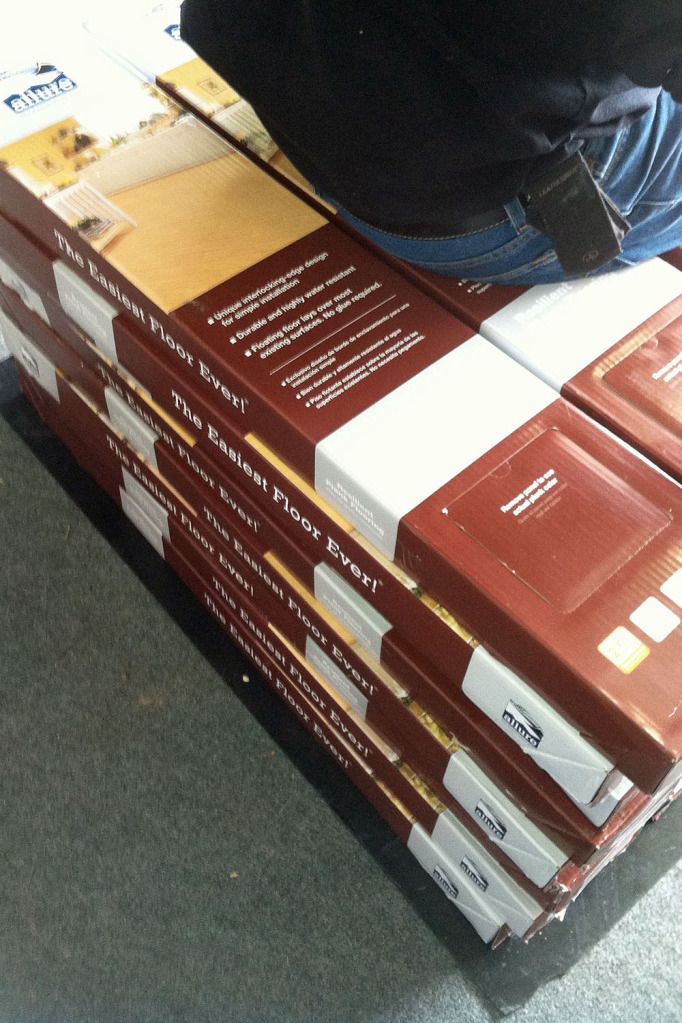 We purchased new flooring at Home Depot and got right to "More saving, more doing." We are not professional flooring installers. So basically, we were both terrified of what we had just gotten ourselves into. (For the record: this was all my idea.) I think the phrase "freaked out" may have come up in conversation on the way home, truck loaded down with 24 boxes of Allure "Country Pine" flooring in the back.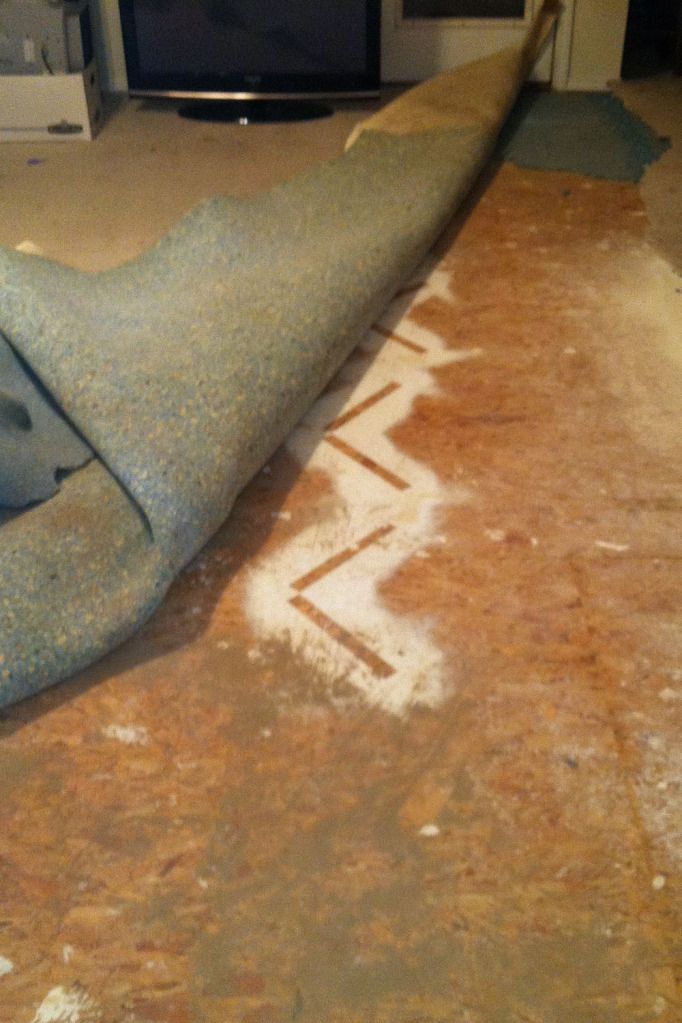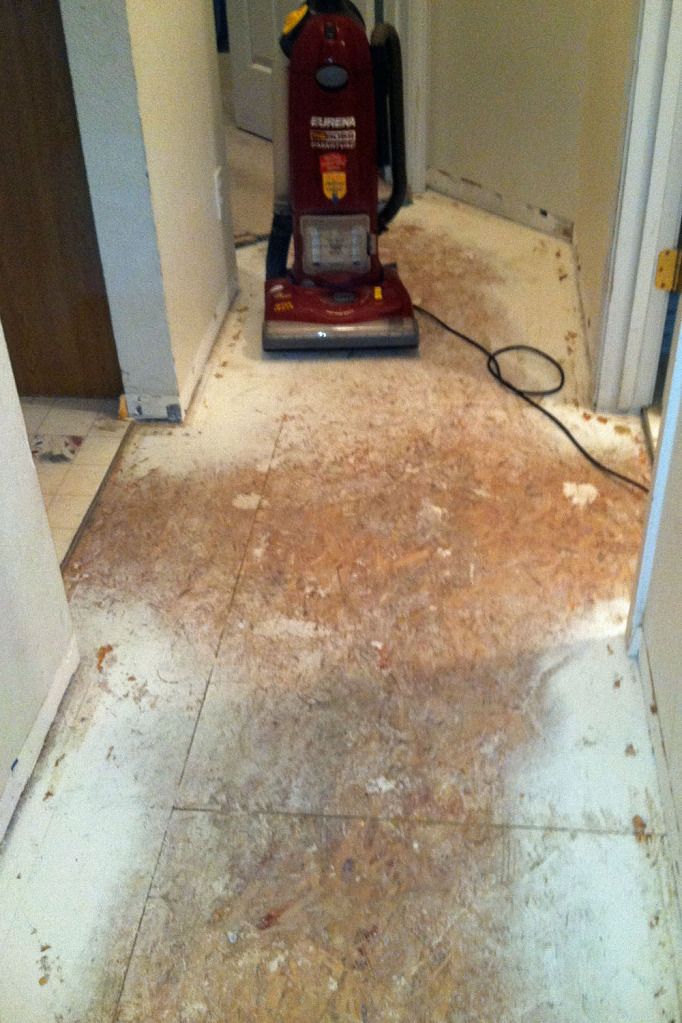 Since my father, a first rate carpenter and someone with installing experience, lives two hours away we had to figure out how to actually install the floors. We searched for Allure flooring installation on YouTube.com and lucked out! We watched a guy, who was clearly a professional (evidenced by the tool belt and knee pads he sported), install flooring exactly like the stuff we just bought. Supposedly he did it in two hours. I am certain that was a lie. It took us two days.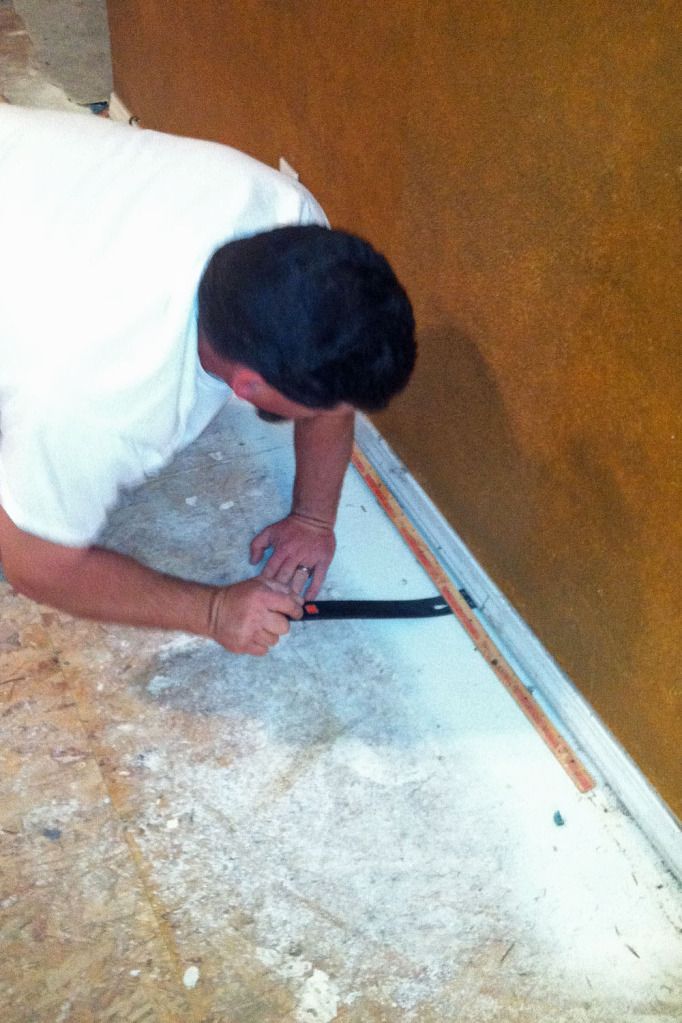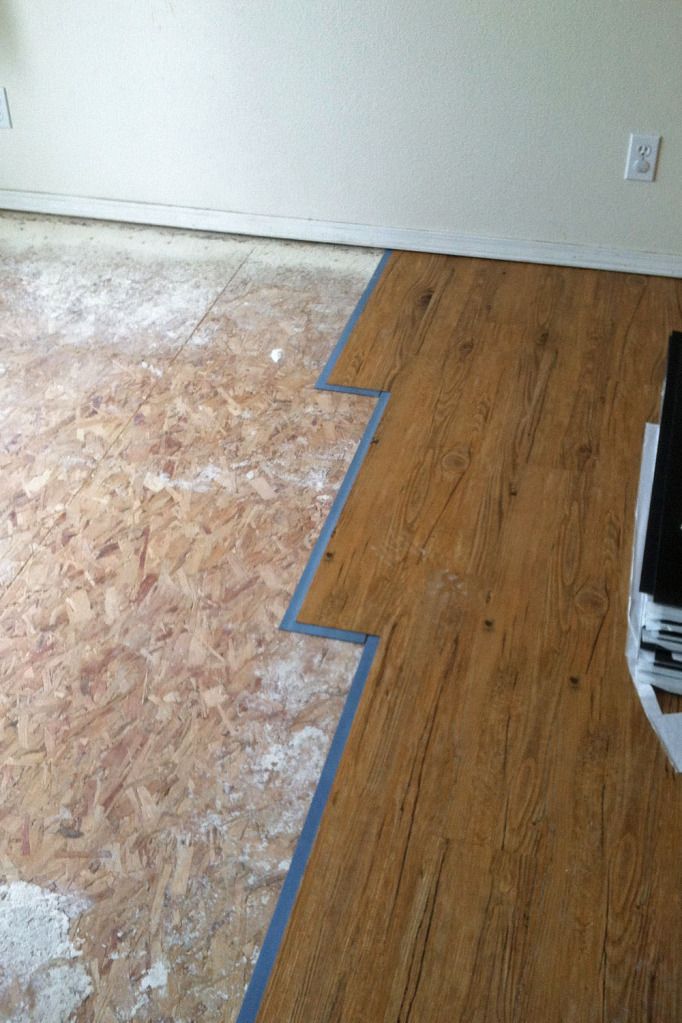 We tore out all the carpet and padding in our living room, dining room and hall ways. Basically, we removed everything down to the sub-floors. We prepped our surfaces. We removed trim. We (mainly "I") pulled up all the tack strips and padding staples from all over the entire house, on my hands and knees, for three evenings. I am a monster. We (mainly "He") used a crow bar to rip out the old laminate flooring at the front entry so that we would have a smooth transition from the entry way to our living room, on his hands and knees, for three evenings. The prep work was grueling and, in my humble opinion, the most difficult part of the project.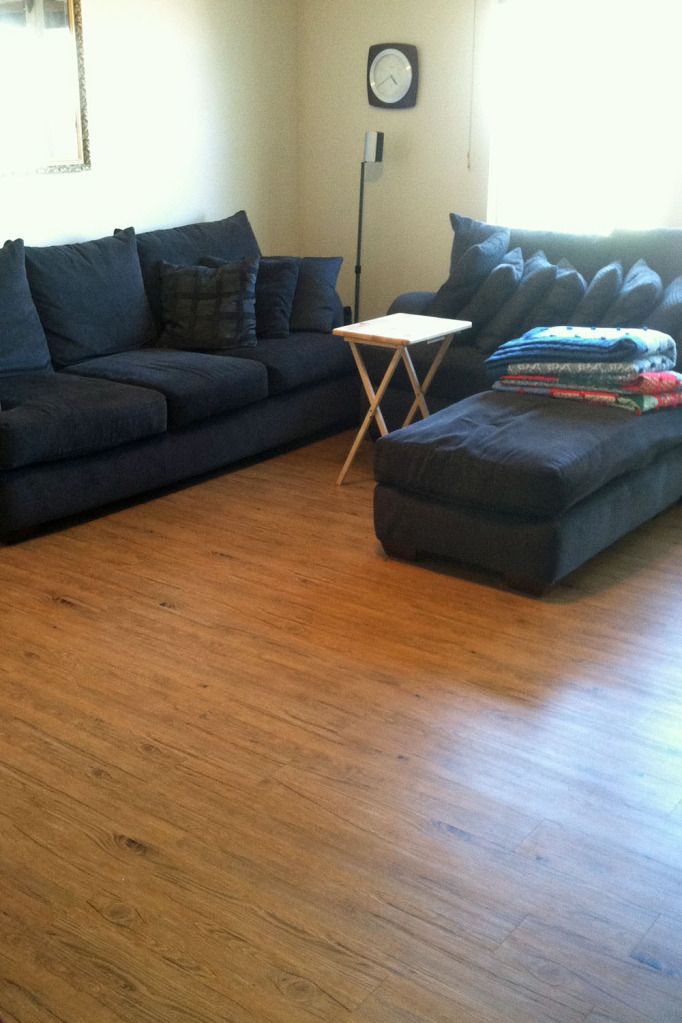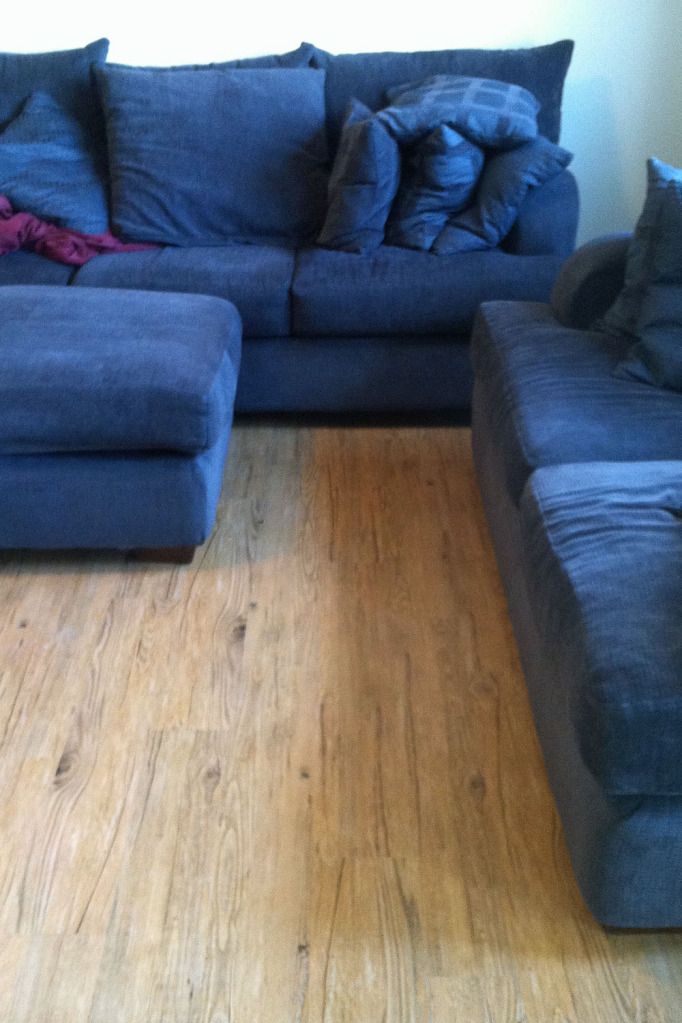 We learned how to actually install the flooring, after watching the YouTube video, reading the handout from the Home Depot flooring clerk, and several practice attempts. We started laying the flooring in the hardest section (hind sight) near the front door. But we figured that area would give us the best chance of having relatively squared up lines, which it did. Phew! The flooring comes in 6"x36" strips with self-adhesive edges that fit together perfectly and create what's referred to as a "floating" floor. It can be purchased in several different finishes and feels very authentic. Also, Allure flooring is water-proof. That's right…water proof. I have small, messy boys to think of. And it boasts a 25 year factory warranty. I don't plan on being in our current home that long, but I do appreciate the insurance. (No, I am not getting paid to say nice things about Allure. The product speaks for itself.)
We conquered our fear of screwing up our install project and our floors. I don't know about other self-installed flooring, but my husband and I both agree: this stuff was easy to install (especially for newbies like us) and looks fabulous in our home. We love it. We still love each other too, which is a bonus. We laughed a lot, and learned some new things about each other. I have a new appreciation for DIY projects. We completed a DIY project together and…it was fun! We, or maybe just me, will do another DIY, someday.