Icebox or Refrigerator Cookies
Icebox or Refrigerator Cookies
Designed by Brenda Hyde
All Rights Reserved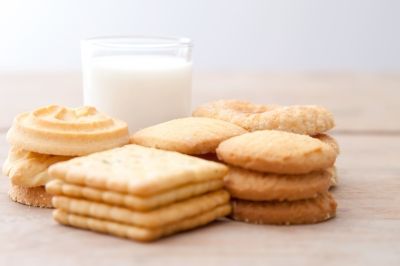 The icebox or refrigerator cookie has stood the test of time.
It was popular when homes had iceboxes before modern refrigerators became popular in the 1930's.
The dough of this cookie is shaped and chilled
, sometimes frozen, then later cut and baked. It's not a spur of the moment cookie like drop cookies, but it can be made ahead and baked as the need rises.
All About Home Baking, published in 1933, has the best instructions I've come across for this type of cookie.
This stiff dough is inclined to crumble. Gather together all loose particles and press lightly into one large piece of dough. It may then be divided in half and shaped into rolls.

For rolls, work with half the dough at a time. Fold waxed paper over dough, press lightly, and mold into roll about 1 1/2 inches in diameter, lengthing as you shape. Wrap paper tightly and pat outside of paper, making dough smooth and even.

Hold firm (after chilling according to the recipe directions) dough with left hand and, with a sawing motion, drawing knife back and forth through dough, and, at the same time, pressing down lightly. Do not press too hard or allow dough to become softened if cookies are to be shaped.
The instructions above can be used for any refrigerator or icebox cookie. This type of cookie, though easy to make, isn't as forgiving as drop cookie recipes. Be sure to measure all the ingredients accurately, and try not to use substitutions. This is a thin cookie, so it needs to be watched carefully in the oven, and never overbaked.
Below I have some nice, simple recipes that use easy to find ingredients. The first recipe uses an alternative method of lining a pan with waxed paper, and using it to "mold" the dough. The method of making a roll, as explained above, can also be used.
Coconut Ice Box Cookies
Ingredients:
5 1/2 cups sifted cake flour
3 tsp. baking powder
1/2 tsp. salt
3 eggs, lightly beaten
1/2 cup brown sugar, packed
1 cup sugar
1 1/2 cup melted butter
4 cups shredded coconut
Sift the flour, measure, add baking powder and salt, then sift again. Combine the remaining ingredients, add flour mixture. Mix well and pack into a lined pan, 8x8 inches. Chill thoroughly. Remove from the pan cut in half and slice to 1/8 inch slices. Bake on ungreased sheet in hot oven (400 degrees F.)for 5 minutes. Makes 96.
Frozen Cookies
Practical Recipes for the Housewife, 1936
2 cups melted shortening
1 cup brown sugar
1 cup white sugar
3 eggs
1 tsp. cinnamon
4 cups flour
1 tsp. soda
1 tsp. salt
filberts, almonds or peanuts, halved
Sift the dry ingredients and add to the others in the order given. Mold into a long roll and wrap in a clean towel. Let stand in a cold place to become hard. Slice thin and bake brown in a hot oven. (390 degrees F.) The dough may be kept indefinitely in winter weather or in a mechanical refrigerator and may be baked quickly whenever the oven in going.
German Crisps
The International Cook Book, 1929
1 cup butter
2 eggs
3/4 tsp. salt
2 cups brown sugar
3 1/2 cups flour
1 tsp. soda
1 cup chopped walnuts
Cream butter and sugar; add egg and beat thoroughly. Mix flour and soda. Add flour mixture and nuts to creamed sugar and shortening. Mix thoroughly. Form into roll. Flatten the top. Let stand in icebox or a cold place overnight. In the morning, slice thin. Bake on greased cookie sheets ten minutes in a moderately hot oven (375 degrees F.).
Notes: This will work with any chopped nuts, and it's good with an addition of 1 tsp. vanilla extract mixed in when the butter and sugar is creamed.
You may also enjoy:
Holiday Cream Cheese Cookies
Dainty Cookies
Freezing Cookies and Cookie Dough
Image:
FreeDigitalPhotos.net