Homegrown Vegetable Recipes
Homegrown Vegetable Recipes
Designed by Brenda Hyde
All Rights Reserved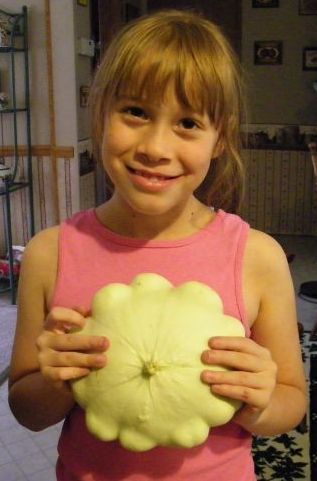 The garden is in full swing by August, and fresh vegetables are available locally and from roadside stands if you don't have your own garden. Nothing beats a homegrown vegetable for taste.
The recipes below include homegrown vegetables and fresh herbs in the ingredients. If you don't have access to herbs, dried will work if you use half of the amount called for in the recipe.
Summer squash includes the popular and easy to grow zucchini, but there is also patty pan and scalloped varieties such as Peter Pan and Sunburst plus the traditional yellow crookneck squash.
All summer squash can be used the same, and if you end up with a few that are overgrown try using those in the soup recipe below.
Roasted Garlic New Potatoes
Ingredients:
1 tbsp. butter
1 tbsp. vegetable or olive oil
10-12 small potatoes
4 garlic cloves, peeled
salt
pepper
paprika
Cut the potatoes in half, or quarter if they aren't small enough. In a shallow baking pan (9x13 works well), place the butter and olive oil. Place the pan in the oven until the butter is melted. Put the potatoes and garlic in the pan and shake to coat. Season with salt, pepper and paprika lightly over the top of the potatoes. Return to the oven, baking about 30 minutes or until the potatoes are browned lightly and tender. Stir a couple of times during the half hour. Serve warm. 4 servings.
Tomato Basil Soup
Ingredients:
12 ripe tomatoes
8 tbsp. butter
6 tbsp. flour
1/2 cup sweet onion, minced
1 quart chicken or vegetable stock
1 cup fresh basil
4 cups whole milk
Dip the tomatoes in boiling water using tongs to remove the skin. Process the tomatoes and basil in a food processor or blender and set aside. In a soup pot, melt the butter and stir in the flour to make a paste. Add the onion and sauté. Add the stock slowly, stirring while heating on medium high heat. Continue to cook until thick. Add the tomato basil mixture. Add the milk and heat until it's hot, but not boiling. Season with salt and pepper. Serve.
Note: Whole milk works well, but so does 2% if a cup of cream is added at the same time-3 cups milk, 1 cup cream or half and half.
Zucchini Soup
Ingredients:
1/4 cup butter
2 pounds zucchini, peeled and thinly sliced
4 cups chicken broth
1 cup sweet onion, minced
1 tsp. minced, fresh dill
1/2 tsp. salt
2 tbsp. chopped fresh chives
Optional: dash or two of paprika and cayenne pepper
Melt the butter in a soup pot, add the zucchini and onion. Sauté for about 10 minutes, stirring occasionally and watching carefully. Don't brown the vegetables, heat slowly. When tender, add half of the vegetables with 2 cups of chicken broth to a blender with dill and spices. Repeat with the remaining vegetables and the broth. Add all back into the soup pot, and heat till almost boiling and hot. Serve in bowls with the chives.
Spaghetti Primavera
Ingredients:
1/2 pound spaghetti
1/2 cup Italian Dressing, any brand
1 green bell pepper
1 red bell pepper
1 medium yellow summer squash *see note
1 medium tomato chopped
1 cup fresh mushrooms
1 cup fresh thin green beans
1/4 cup shredded Italian Blend cheese
3 tbsp. fresh basil, minced
Prepare the spaghetti according to box directions; drain and set aside. Chop the bell peppers and tomato. Peel and slice the squash into skinny strips (juliennes). Snap the ends off of the green beans, and cut into halves. In a large skillet add the dressing and the vegetables. Simmer until everything is tender, but not soggy. Serve over the hot spaghetti, top with cheese and the basil.
Notes: The vegetables can be varied in this recipe. If you have a lot of squash, but not green beans, then substitute. The key is to simmer the vegetables just long enough to cook, but they should still be bright and not limp. Parmesan cheese can be used into the Italian blend cheese, as well. Also, any type of pasta can be substituted. To spice things up a bit, add crushed red pepper to the dish.
Enjoy!
You may also enjoy:
Homemade Ice Cream Toppings
A Watermelon Basket for All Occasions
Refreshing Summer Beverages