Easy Fish Recipes
Easy Fish Recipes
Designed by Brenda Hyde
All Rights Reserved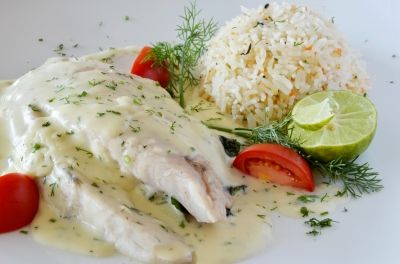 I won't deny that I love fried fish. When I married my husband he introduced me to fish dipped in white cornmeal and fried in vegetable oil instead of coating it in a batter. That was a first for me, and we still fry fish this way once a year or so. Over the years I changed to yellow cornmeal seasoned with ground black pepper, seasoning salt and a little bit of Cajun seasoning.
It's still a treat to fry up a few pounds of perch, catfish or tilapia using this method. Most of the time though we go for baked, grilled or sauteed fish in an attempt to eat healthier. Here, I'm sharing a few recipes I've tried over the years that have been favorite alternatives to frying.
Baked Tilapia
Ingredients:
4-6 tilapia fillets
Italian dressing, any brand
1 tsp. garlic powder
ground black pepper
2 tablespoons lemon juice
1 teaspoon Italian seasoning
Place the fish in a baking pan in a single layer. Mix the remaining ingredients together and pour over the fish. Marinate for 30 minutes. Bake at 350°F for 20-30 minutes until the fish is flaky.
Notes: This is really good served with rice and a salad.
Garlic Butter Catfish
Ingredients:
1 lb. catfish fillets
flour
1/4 cup butter
1/4 cup vegetable oil
2 garlic cloves, peeled and minced
Lemon
Rinse the catfish in cold water and pat dry. Place a small amount of flour in a pie plate or dish. Very lightly coat the fish with flour. In a heavy skillet, heat butter and oil on medium heat. Add the garlic. Saute 1 minute. Add the fish fillets. Cook over medium high heat about 10 minutes or until fish is cooked through, turning once. Serve with lemon wedges. Makes 4 servings.
Baked Perch With Herbs
Ingredients:
2 lbs. fresh (or frozen) perch
2 tbsp. melted butter
1/4 c. lemon juice
1 tsp. dried oregano
1 tsp. dried basil
1 tsp. seasoning salt
1/2 tsp. ground black pepper
Thaw fish if frozen. Preheat oven to 400 degrees. Spray a 13 x 9 x 2 inch pan with baking spray or coat lightly with butter. Place fresh fish in the pan. Mix together the butter, lemon juice and seasonings. Drizzle over the fish. Bake uncovered 30-40 minutes or until fish flakes easily with fork.
Grilled Fish Fillets
Ingredients:
1 1/2 lb. fish fillets, any firm variety
1/2 cup butter
1 tbsp. chopped parsley
1 tbsp. fresh dill
2 tbsp. lemon juice
2 tsp. salt
Ground black pepper to taste
Cut fillets into serving size portions if they are large. Cover grill grate with aluminum foil. Spray the foil with nonstick pan spray, or brush lightly with oil or butter. Place the fillets on the foil over medium heat. Combine the rest of the ingredients and baste fish with a brush. Cook about 4 inches from heat for 8-10 minutes. Turn with a spatula and baste again, cooking for an additional 5-7 minutes or until fish flakes with fork.
Notes: I've used tilapia, salmon, catfish, lake trout, perch, blue gill or bass.
Image courtesy of:
FreeDigitalPhotos.net
You may also enjoy:
Eating Light With Seafood