Easy Breakfast Recipes
Easy Breakfast Recipes
Designed by Brenda Hyde
All Rights Reserved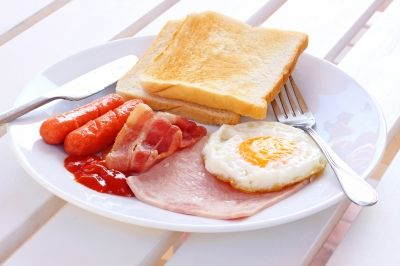 I love easy breakfast dishes (like the following recipes) to serve on the weekend. I never know if we're going to have 2-3 extra teenagers staying the night and they don't usually wake up bright and early. These dishes taste great served later in the morning or even closer to lunch. Serve with biscuits, English muffins or toast plus orange juice and everyone is full and happy. Happy teenagers are a good thing!Whether you have a full house or an empty nest, you will love these simple solutions to a hungry tummy.
Breakfast Casserole
Ingredients:
1 (12 oz. package) frozen shredded Hash Browns
1/4 cup butter or margarine, melted
1 cup diced cooked ham
8 oz. sharp cheddar cheese, shredded
6 eggs
3/4 cup milk
1/4 tsp. seasoned salt
1 (6 oz.) can diced roasted green chilies (optional)
Butter or spray a casserole dish or glass pan. Spread the hash browns in the bottom of the dish. Brush with melted butter or margarine. Bake this at 400 degrees for 2o minutes. Remove from oven. On top of the potatoes, layer the ham, cheese and chilies. Combine the eggs, milk and salt. Whisk briskly until combined and beaten well. Pour on top of ham and cheese mixture. Bake at 350°F for 30 to 35 minutes.
Breakfast Pizza
Ingredients:
1 (8 oz.) tube crescent rolls
1 lb. breakfast sausage, any variety
4 oz. fresh mushrooms, sliced thin
1/2 cup very thinly sliced sweet onion
1/2 c. diced green pepper
5 large eggs, well beaten
8 ounces shredded Cheddar cheese
Grease a 12 inch pizza pan. Lay crescent rolls with points toward center in pan, press lightly to cover the entire pan. Set aside. Brown sausage, while breaking it up as it cooks. Drain any grease off the sausage. Sauté the mushrooms, onion and green pepper lightly. Top the crust with the sausage and vegetables. Pour eggs over top, as evenly as possible. Top with cheese. Bake at 400 degrees for 15-20 minutes until the cheese is melted and eggs are set.
Notes: You can use any type of cheese you wish; I sometimes use more than 8 ounces if I have it.
Breakfast Quiche
Ingredients:
9 inch unbaked pie shell
8-12 oz. sausage or bacon, cooked, drained and crumbled
8 oz. shredded sharp Cheddar cheese
6 eggs, beaten
2 green onions, ends trimmed, chopped
3/4 cup milk
1/2 tsp. salt
1/4 tsp. ground black pepper
Preheat oven to 375 degrees. Line unbaked pie shell with 1/2 cup of cheese. Top the cheese with cooked sausage or bacon. Cover with remaining cheese. Combine eggs, green onion, milk, salt and pepper and beat well. Pour over ingredients in pie shell. Bake 20 to 30 minutes until knife inserted into center comes out clean. Serve hot.
Notes: The meat amount is fairly flexible. I also like to save a little out to sprinkle on the top of the quiche before serving. This is also good with a little sautéed green pepper and onion mixed in.
You may also enjoy:
Image: FreeDigitalPhotos.net