Celebrate Earth Day
Celebrate Earth Day
Designed by Tia Davis
All Rights Reserved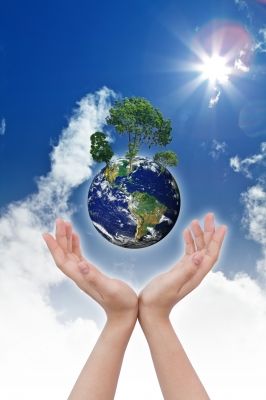 10 Simple Ways to Celebrate Earth Day
1. Plant things. Trees, flowers, shrubs, herbs, gardens and more. If you just don't know where to start, visit your local nursery and ask about trees and plants that will do well in your area and climate. You don't have to spend a lot of money to make a big impact. Plant a little bit every year (or month) and it will add up. Plan and plant an herb or vegetable garden. Spend Earth Day working in your yard, making it pretty or more earth friendly.
2. Take a hike. Literally. Grab a friend, grab your kids, or grab your jacket and get out the door. Go for a walk or hike and soak up as much oxygen as possible. Be grateful and take deep breaths. Look at nature with fresh eyes. Appreciate your local flora and fauna. Again, you don't have to spend money or go crazy to celebrate and honor the Earth. Just a little appreciation will do. If you are more adventurous, visit a nearby hiking area, mountain or outdoor recreation area, or drive out to the wilds and jump to it. (Take a GPS and be safe – tell someone where you are headed and when you will be back.)
3. Volunteer. At school, work, church or a local charity. Volunteer to help with earth friendly programs, events, activities, crafts or…If you cannot find an organized event for Earth Day, head to the nursery, buy some plants, and pick a spot in your town, subdivision or street and start planting. Go on a litter road trip: pick a section of road or highway near you and pick up the trash. Or organize your own Earth Day event!
4. Create. Nature crafts. Recycled crafts. Plant and animal friendly crafts. Try your hand at kid-friendly crafts (whether you are a kid or not). Here are some suggestions: pinecone bird feeder, homemade clay earth day pendants and ornaments, bug mobiles made from recycled stuff, a rain stick, egg carton animals, or decorated tin can planters. Create a compost area in your garden.
5. Learn. Investigate how to live more sustainably and environmentally conscious. Ideas like sustainable living, planting a garden, backyard chickens, solar panel use, electric or hybrid automobiles and more, all contribute to helping promote our planet's health and well-being. Get learning. Get your kids involved too. Most schools celebrate Earth Day with some type of craft, activity, or community service project.
6. Declutter. Do some Spring cleaning around your house and collect things you just don't: use, wear, sit in, read, value, appreciate. Haul it all down to Good Will, Youth Ranch, or your local thrift store. Areas to pay special attention to: cupboards, closets, bookshelves, drawers, toy boxes, medicine cabinets, DVD collections, under the bed and in the attic. When decluttering items ask yourself some questions like: Have I used/worn this in the last 6 months to 1 year? Do I love this and why? Is it serving a purpose or taking up space?
7. Shop Green. Try green shopping. Some ideas are: purchasing natural fiber garments, organic foods, foods packaged in environmentally safe containers or containers you can easily reuse. Or focus on some basics to get you started: buy reusable water bottles and energy efficient light bulbs. Buy a push mower, that's super green! (Don't forget your reusable shopping bags.)
8. Bike it. Ride your bike to the store, park, friend's house, or for fun. Enter some bike events, races, or trail rides. Don't have a bike? Don't worry. First, check the newspaper or Craig's List for gently used bikes for sale. Ask a friend if they have an extra bike you could fix up and borrow. Visit your local thrift store too. Last resort, shop around for a sale on a reliable bike that will get you from point A to point B. Again, you don't have to spend a lot of money to gain a lot of bike. Become bike smart.
9. Conserve. Water, Energy, Food…Implement an energy conservation plan in your home, school, office, or non-profit organization. Conserve fuel (see #8) and learn how else you can conserve to help the earth (see #5). Turn off the lights, the T.V. and the noise. Go outside in the evening with your family, kids, spouse or pets. (Tell some ghost stories or favorite family stories.)
10. Reduce. Recycle. Reuse. Brainstorm (or Google) ideas for how to increase or implement your own recycling program. Then take your program to work, school, church, etc. Visit a nearby recycling facility for ideas and tips for starting a home recycling program. They may even offer free bins or tools to make it easier.
Beyond the list, involve yourself, your spouse and your children. Teach them how, teach them young.

*(I just couldn't resist one last tip!) Throw a garden party and invite friends or neighbors over for some Earth Day themed foods, favors, and fun! Hand out seed packets or seedlings to guests. Plan an Earth Day activity for each guest to make and take, such as a recycled egg carton organizer or a repurposed flower pot photo holder. Get creative and make it memorable. Then, put it on your calendar and make it an annual event.

Image: jannoon028 / FreeDigitalPhotos.net