Back to School Clothes Made Easy
Back to School Clothes Made Easy
Designed by Tia Davis
All Rights Reserved
It's that time of year again – time to tackle the growing list of back-to-school must-needs, must-haves and must-be-kidding-me for school clothes! If you are a busy mom like me, you don't have a lot of extra time to get it all done. And if you are an American like me, you don't have a lot of extra money to get it all purchased. With those two things in mind…
Do you relish the task of assembling a wardrobe for your kids? Or…do you dread it?
First, I have two boys making back-to-school shopping and prepping easier, in my humble opinion. (I watch from a safe distance as my friends with daughters struggle to keep their sanity while accomplishing the task of outfitting a girl for school.) Before you chuck tomatoes at me, please know I have one super easy-to-clothe boy and one super picky-to-clothe boy. Luckily the easy one was born first, or I may have only had one child.
Second, my son (age 8) attends a charter school which requires and enforces a strict uniform dress code. At first I thought I would hate not being able to just stroll in to Target and buy the first cute clothes I laid hands one. But now, after 3 years of uniform shopping for school – I am hooked! I can't imagine going mainstream back-to-school shopping. Too many choices and I turn into Super Indecisive Mom! I have trouble picking out colored notebooks for goodness sake.
But this got me thinking.
What if your kids attend public or private schools with no uniform policy or dress code requirements? Is there a way to simplify your back-to-school shopping experience? Having a strict uniform policy to abide by actually simplified my shopping, cutting down on time spent on the process and money spent on the clothing. I want that feeling and experience for every busy mommy I know. We need all the help we can get. Then, it hit me! I had an ah-ha moment.
Plan a back-to-school wardrobe around your own "uniform" policy!
No, you don't have to turn in to the neighborhood Nazi dress code Mama. But how about this: Make a list of the basics. Then plan your shopping accordingly. I think this could work for boys and girls, and even adults. I'll use my son's uniform as an example. He may wear khaki, black or navy blue pants and shorts, paired with solid color polos or traditional button up dress shirts, with the school logo embroidered on the shirts.
Back to school shopping means in August I buy: two new pairs of shorts, two new pairs of pants, underwear, socks and 4 – 5 new polo shirts. Because he is 8 years old and growing like crazy, I know I'll have to replace pants or add to the pants by November or December, so I limit the stuff I buy in August. Once a year, we purchase a new school sweatshirt that he can wear inside the classroom for cool winter months.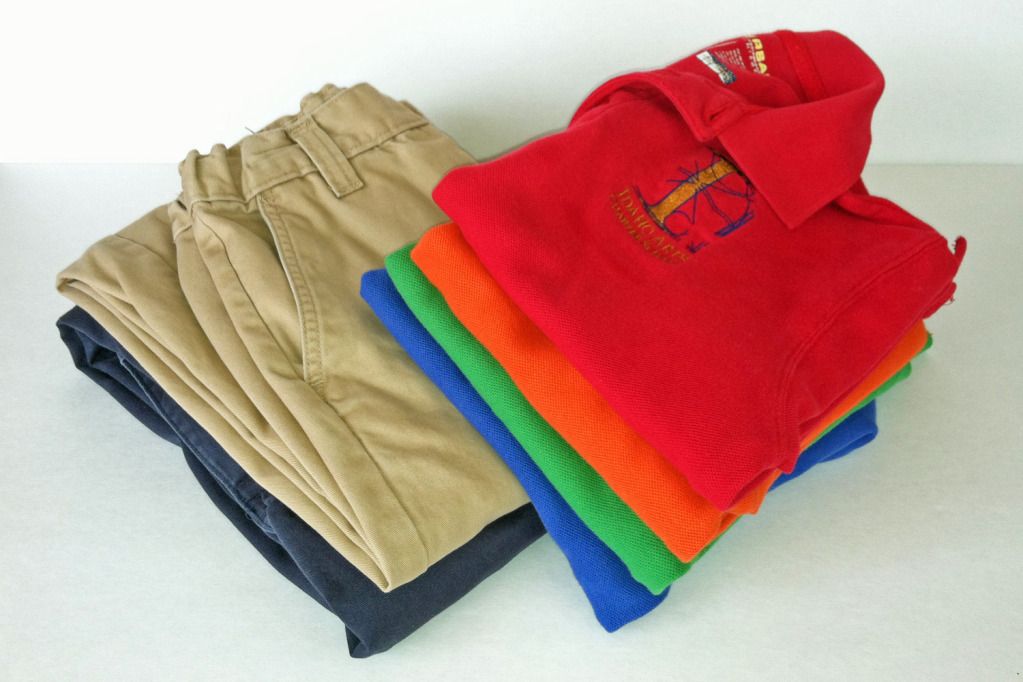 Your turn: Two rules to keep in mind (especially considering the economy and price of clothing)… Keep it simple
. You've listed the basics. Mirror a uniform code. Kids need jeans or pants, shorts, shirts and usually sneakers. Maybe your list looks like this: two pair of jeans, one pair of khakis, two pair of shorts, underclothes, socks, 4 – 5 polos or t-shirts, one nicer shirt for picture day or a holiday and a new pair of sneakers. This plan can be adapted for girls, with a few accessories like scarves or basic jewelry pieces (age appropriate) to keep outfits fresh.
Hunt the sale
. I don't advocate running to twelve different stores to accomplish bargain hunting. But I do watch sale racks and keep coupons in mind. For example, Target is a great place to find all your basics, plus underclothes, socks and sneakers and they run back-to-school sales like all the rest. And don't be afraid to shop generic. Here's why. Many times, the fabrics used to craft the brand name clothing lines is the same fabric used to create Wal-Mart or Target's basic collections. And kids grow. Like weeds. It doesn't make any sense to me why you want to dump your hard earned dollars into clothes they are going to shoot out of within 6 months or less. Also, I am going to say it…don't freak out. Here it is – visit the thrift stores. You may not find anything. Then again, you may find some brand name gently used items to use as accent pieces.
Another tip
: My 8 year old has "school" clothes and "play" clothes. It's an old fashioned concept but it works for us. (I remember doing this when I was little because we lived on a farm and had chores that required getting dirty – like feeding livestock and such.) This keeps the uniform pieces looking nice and lasting a little bit longer. It only slightly increases my laundry chores, because the play clothes just don't get as dirty either. (Yes, my boys put on jeans from the day before to play in if they are still clean.)
I don't want you to feel sorry for my little frumpy uniform kids. Their grandparents supply plenty of fun play clothes to supplement their wardrobe, mainly at Christmas and for birthdays. It may be kind of mean, but I tell my mom and mother-in-law to buy clothes, instead of more toys, if they are going to spend the money anyway. This does have a funny outcome: my boys actually love getting new clothes as gifts!
And because I am not stressed to buy a bunch of new trendy stuff in August, I can usually find fun t-shirts and other cool stuff all year long at places like Old Navy and Kohl's. And yes, I buy jeans and t-shirts at (cue dramatic music)…thrift stores. I am picky, but once in a while I find Gap kids and other brand names sitting on a thrift store rack, just waiting for me to snatch them up.
How about you? What are you buying for back-to-school clothing this year? Do you have any tips to share with us? Connect with us on Facebook and share the back-to-school shopping love!
You may also enjoy:
After School Snacks
The School Lunch
A Special Pencil Box