5 Ways to Encourage Creativity
5 Ways to Encourage Creativity
Designed by Rebecca Wilcox
All Rights Reserved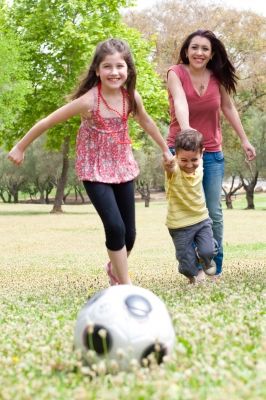 Keeping Kids Creative without Electronics...
In this day and age, it's very common to see kids toting around cell phones, laptops or expensive tablet computers. Often times, when they're not playing with these devices, they're parked firmly on the couch playing video games or watching television.
Children are naturally inquisitive and creative, but
modern electronics
have taken the place of such activities in their lives. There's no need to come up with their own entertainment when they can simply switch on a device. As a result, their creativity atrophies along with their minds and bodies. Here are five ways that you can encourage your child's creativity without using electronics.
Arts and Crafts
Little is more nourishing to the creative spirit than making things with your bare hands. Almost anything can be used to make something artistic and materials don't have to cost money. Even seemingly mundane items like sticks and twine can be used to make something that is both fun and useful. Look around your house for creative supplies you already have on hand such as crayons, glue, construction paper and empty cardboard tubes. Unleash your creativity and their imaginations.
Outside Time
One of the best things you can do for your child is to encourage them to spend time playing outside. This allows them the opportunity to engage in imaginative play and make up their own games. Furthermore, it's good for their health. According to the American Heart Association, nearly 38 percent of children between the ages of two and 19 are obese. The time spent playing outside is time that won't be spent sitting in front of the television devouring snacks. Purchasing gently used sports equipment such as soccer balls, baseball gear or roller-blades is also an easy and affordable way to encourage outdoor activity.
Singing Lessons
Children are naturally quite vocal and love making up songs and singing them. If your child shows an interest in this, you may want to consider
San Diego voice lessons
or local voice lessons to help them hone their creative talent. Singing is a great way for your child to express themselves and share something wonderful with the world. It also provides an outlet for using up some of that extra energy.
Play an Instrument
Singing isn't the only way for your child to enjoy music. Many kids may also enjoy playing an instrument such as the drums, flute or
piano
. Children who play an instrument are more likely to stay out of trouble and do better in school. Even if their first choice of instruments doesn't hold their attention, but your child continues to express an interest in making music, keep trying a few different kinds until you find the right fit for your family.
Coloring
Providing your child with coloring books and crayons, colored pencils or markers is a great way to encourage them creatively while also keeping them quiet and distracted for extended periods. These tools will allow kids to not only develop their fine motor control but also learn more about colors and image structure. Eventually your little Picasso may want to graduate to drawing or painting so be ready to encourage your child's natural artistic talents.
There are many ways to enhance your child's creativity without exposing them needlessly to electronics simply by using a little creativity of your own. Doing so now will help prevent cognitive and health problems in the short term and will enhance their chances of success in the long run. An ounce of imagination now equals a pound of creativity later!
Image:
FreeDigitalPhotos.net
You may also enjoy:
Living the Old Fashioned Way
How to Enjoy Old Fashioned Living in the City
City Living Brings Life Back to a 3 Block Radius